Did you know? The average US adult spends at least 6½ hours sitting down per day. Yet, experts advise that the maximum time you should sit at a go is 30 minutes. 
But, this isn't practical. Most of us are in a chair for much longer periods. 
What's worse, school and office chairs aren't ergonomically designed for our hips, legs, or back. As a result, we often get up with tight hip muscles, tingly legs, and lower back pain.
Leaving these side effects unchecked can cause long-term body aches and even illnesses.
And maybe you've tried to:
Take breaks and stretch
Add decorative cushions to chairs
Maintain a good posture when seated
Nonetheless, it's unrealistic to get up and stretch in between meetings or class sessions. Plus, the conventional pillows lack specially designed cushioning support and often sink into the hard chairs. 
Similarly, when sitting on hard surfaces, you're more likely to slouch — putting your lower back and hips in an awkward stance.
The good news is that you can avoid these setbacks by using an ergonomic seat cushion from The Cushion Lab. The chair cushion makes any seat comfortable and healthy for your body.

Pressure Relief Seat Cushion
But before we discover how to use a Pressure Relief Seat Cushion from The Cushion Lab, let's unravel why it's an excellent must-have.
Why You Should Own a Memory Foam Seat Cushion
The Cushion Lab's pressure relief memory foam seat cushion is an effective addition to any chair because it: 
Helps you to maintain the correct sitting posture 
Distributes your body weight evenly 
Keeps your hip muscles relaxed to reduce muscle fatigue
The Cushion Lab ergonomists use rebounding memory foam infused with charcoal extract. 
The memory foam conforms to the shape of your legs and hips, giving you a soft sitting surface.  
When you sit on a softer surface, your body weight is evenly distributed on your coccyx, hip bones, and legs. That way, you can sit upright and avoid drooping.
Moreover, the cloud-like comfort helps to deeply release muscle and nerve tension. For instance, it aids in keeping  the piriformis muscle relaxed. In turn, that helps relieve sciatica — a nerve pain issue that is felt in the legs.
"I recommend this product.

I'm a truck driver & a large guy, I sit for hours at a time on the road & after my 1st day the comfort was so good my leg pain stopped. It's been 2 weeks now & I'm actually walking normally & not having pain with every step I take. Best purchase & worth every penny if u sit for any amount of time." - Robert
Moreover, the cushions have charcoal to resist unpleasant odors and breathable covers to allow air circulation. Therefore, these pressure relief seat cushions remain fresh even after long use.
So how do you use one? 
A Simple Guide on How to Use Memory Foam Cushions on Any Chair
The most exciting feature about the pressure relief memory foam seat cushion is that it's portable and usable on any chair.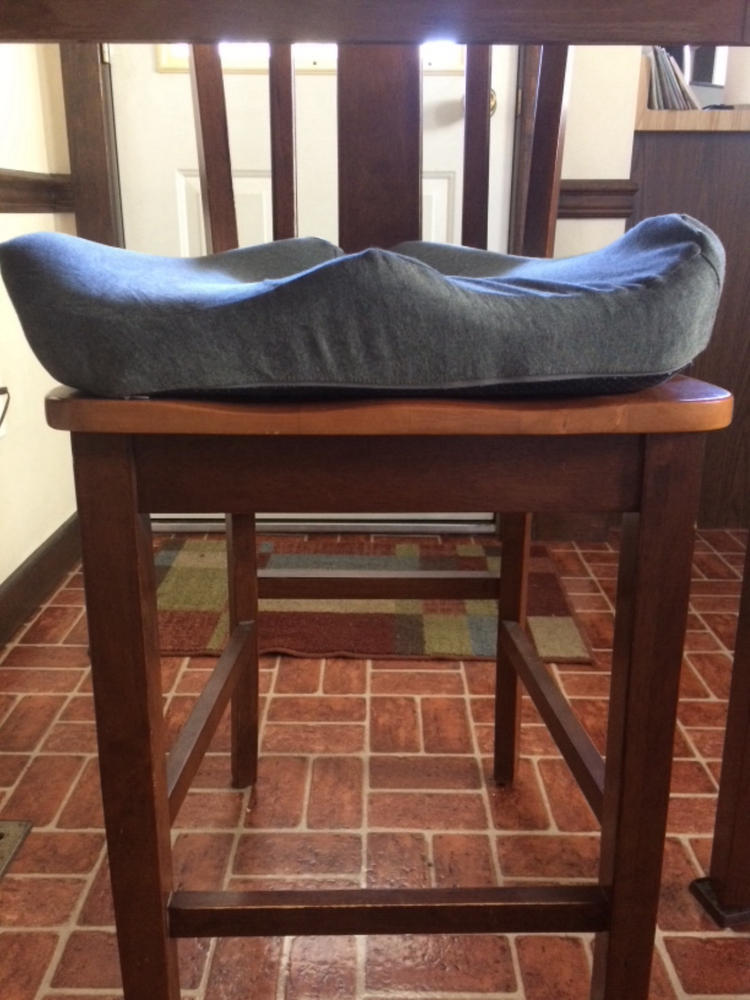 Pressure Relief Seat Cushion
So whether you work all day on your hardwood dining chair or you're stuck in a car seat during long commutes, the pressure relief seat cushion is for you. It fits perfectly on any chair to give you much-needed comfort and boosted support.
How to Install the Pressure Relief Seat Cushion on a Chair
The Cushion Lab's pressure relief seat cushion is an easy install. 
All you need to do is:
Place the seat cushion on the chair's sitting surface
Then secure it to the chair using the adjustable strap found at the bottom (Figure 1 below)
To remove, simply loosen the strap and lift the seat cushion 
"Well thought out seat cushion.

This is a very enjoyable seat cushion for long sitting sessions. The grippy bottom part is especially helpful; not only does it hold the cushion in place, but it also has enough grip to allow you to sit upright without scooting forward, very clever!" - Stacey

Back Relief Lumbar Pillow
Rest Your Hips and Upper Legs in the Sunken Section 
The pressure relief seat cushion has deep contours to 'hug' your buttocks, hips, and thighs. Then, at the front, it's got a hip-width opening section. And finally, it has raised edges to keep you from sliding out.
So, ensure that you fit right into the cushion with each leg resting in its designated quarter.
These three sections give you the appropriate thigh depth while keeping your knees and thighs at the recommended hip-width distance. As a result, you get balanced pressure distribution and maximum pelvic stability.
Keep Your Thighs Slanted Downward and Forward
The memory foam cushion slightly slopes outwards at the front. 
That ergonomic design helps you to maintain a natural down-thigh posture with a slight anterior pelvic tilt. 
Subsequently, you can sit with your legs perpendicular to the floor, knees bent at a right angle, and feet flat on the ground. That way, your thighs form a right angle with your spine, keeping your vertebrae discs in their middle position. 
Overall, you avoid straining your lower back joints.
But that's not all. Let's see how you can also use back support.
Pair the Pressure Relief Seat Cushion with a Back Lumbar Pillow
The ultimate sitting comfort is obtained when you've got sufficient support and comfort at these parts of your body:
Therefore, when you're seated, your body needs to be comfortable from head to toe. 
Most importantly, the backbone is the pivotal support structure of your body. And so, if you're in the wrong sitting position, you may cause your spine to misalign. As a result, that can cause back issues such as bone dislocation or soft tissue and nerve distress. 
While the pressure relief seat cushion gives you hip and leg support, the back lumbar pillow ensures your spine is structurally upright and comfortable.

Pressure Relief Seat Cushion
Combining these two seat cushions will give you comprehensive sitting comfort on any surface.
"So happy with my cushions!

I got my seat cushion tonight & it's incredible! Between the seat cushion and my back cushion, my body is beyond grateful. Thanks for making these products! I'm so happy I purchased them!" - Angelica
Cleaning Your Memory Foam Seat Cushion
The Pressure Relief Seat Cushion comes with a removable and washable cover. 
The cover material is made of eco-friendly recycled polyester fabric that's breathable. Hence, you're assured of a dry and airy surface even during hot days.

Pressure Relief Seat Cushion
The cover is machine washable. However, you should only air dry it to avoid ruining the cover material. 
Note: The memory foam pillow core is not washable. 
Reclaim a Healthy and Comfortable Sitting Posture Today!
Looking to sit comfortably for an extended period?
The Cushion Lab pressure relief seat cushion and back lumbar pillow are the answer.
The ergonomists at The Cushion Lab design the pressure relief seat cushion with targeted multi-region sections that evenly distribute your body weight. As a result, that relieves stress on the muscles and nerves, such as the sciatic nerve. 
Additionally, it helps you sit with a proper stance for effective lower back comfort and support. 
Ultimately, you can sit for long periods without worrying or risking hip, leg, and back discomfort.